Leda Brandt has no more dreams. She's the proprietor of the Blue Chip Saloon, but in reality she's another pawn on the chess board of gangster Delos Gerrard and she knows it.
Story
While living in New Orleans, Leda Brandt fell in love and married a dashing gambler named Delos Gerrard. Life with a man like Gerrard was fast-paced and dangerous, but Delos was capable of taking care of himself. Leda watched as he used his favorite weapons, dueling pistols, to send 17 men to their graves.
Leda accompanied Gerrard to the town of Gunsight, where Gerrard set her up as operator of the Blue Chip Saloon. He surrounded himself with gunslingers, crooks and toughs and used this small army to force the business owners in town to pay him protection money.
As Gerrard's scheme paid off and his grip on the town tightened, Leda found herself less and less in love with him. Their relationship became more like a business arrangement than a marriage. Leda watched as the townspeople caved under his ruthless rule. Like the hapless citizens around her, Leda gave up ever leaving Gunsight or achieving any of her dreams.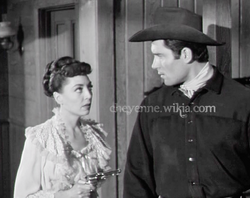 One afternoon when Leda went to visit her husband in his hotel room, she nearly walked into the broad chest of a
tall, dark-haired cowboy
named Cheyenne Bodie who was just leaving. The stranger was defying her husband's orders to pay up, and Leda felt sympathetic to his David versus Gerrard's Goliath. She even hid the stranger in her room when her husband was turning the town inside out to find him.
When Cheyenne finally united the townspeople against Gerrard, Leda watched the pair duel in the center street of town, uncertain who to root for. But like Leda asked herself, who really knows what makes a woman stop loving a man?
Notes