Sarita doesn't like the small town life that Paso Alto offers. She wants the crook Carl Thompson to keep his promise to take her away to Mexico City, but he's hasn't made good on that yet and Sarita is tired of waiting.
Story
Sarita shared a drink with her beau Carl Thompson and reminded of his promise four months ago that he would take her to Mexico City. They argued over his promise and the purpose of two strangers who arrived in town.
When one of them demanded that Thompson face him, Sarita tried to convince him to avoid conflict and leave. They traded loud words and blows and Thompson left. Later, after the two quarreled again, Thompson shoved Sarita and ordered her to go home.
Instead, Sarita went to the stable where the strangers were staying. She offered them Thompson's stolen money, which was hidden away at her house. They agreed to go with her, but on the way they ran into Thompson's gang.
Outnumbered, the Americans hid in the stable and traded bullets with the gang. Meanwhile, Sarita ran to a gathering of townspeople and offered them their guns which Thompson stole and hid from them. Now armed, the townspeople headed off to the fight while Sarita returned home.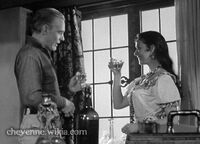 While she waited at home, Thompson arrived having escaped the townspeople. He told Sarita that they're leaving for Mexico City. Instead of going with Thompson, she tried to stab him but he wrestled the knife away from her. Outside the house, the townspeople arrived and called him out. Thompson went out the front door with Sarita as hostage at gunpoint. Sarita shouted for the others to kill him and fought for his gun. It went off and fatally wounded her. She died as the priest gives her last rites.